Kevin Ames (OC Tanner) - Showing Appreciation in the Workplace
With a mission to instill in others a passion for personal and professional excellence, Kevin Ames is one of the highest ranked speakers at the Evanta Leadership Summits. He's spoken to thousands of people and leadership groups at conferences and companies such as National Grid, Dow Chemical, Frito Lay, Bose, Miller Thompson, Pier 1, Kennedy Health, and more. An expert in the areas of workplace culture, engagement, great work, teambuilding, leadership, and personal development, his presentations have been called,
"dynamic, insightful, c

lear, honest, and informative."
_________________________________________________________________________
Scott Belnap CCRN - Recognizing Emergencies in the Medical Office
Scott started his medical career as an EMT working for Power County ambulance. He worked here for several years as he obtained his advanced certificate and when he left he was heading emergency runs regularly.
He went from here to nursing school at the College of Southern Idaho and then onto Boise State University where he obtained his BSN.
He completed a critical care nursing internship at the University of Utah training in several different areas including medical, surgical, cardio, and neuro critical care units, Burn/wound care, and Emergency Department.
After his internship he stayed on at the U and floated through the critical care areas, but primarily worked in the Medical ICU as a charge nurse and on the hospital code team servicing the main hospital as well main campus clinics.
He now works for SLCC as a nursing Lab instructor as well as attending classes to receive his adult geriatric and acute care nurse practitioner.
_______________________________________________________________
Isabel Christina Lau, MD - Childhood Obesity
Dr. Cristina Lau is a Pediatrician practicing at Mountainstar Ogden Pediatrics in Ogden, Utah. She provides a full range of pediatric care from newborn infants to children and adolescents: newborn hospital evaluations, well-child and sick visits, immunizations, school and sports physicals, and inpatient hospital care.
After receiving her medical degree from the Universidad del Norte in Barranquilla, Columbia, Dr. Lau worked as a general practitioner, caring for children and adults in underserved regions of Columbia, as well as implementing new health programs for children there.
She then completed her formal pediatric training at Morehouse School of Medicine in Atlanta, Georgia. During her training, she put particular emphasis on the awareness of sickle cell disease in the African-American and Hispanic communities.
As the mother of a heart patient, Dr. Lau takes a special interest in children with special needs. She is a strong advocate for children and adolescents. Dr. Lau is fluent in Spanish and English.
________________________________________________________________________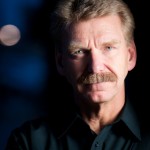 Gregg Luke, BS Pharm, R.Ph. -
Finding your Silver Lining in Working with the Public
Gregg Luke was born in Bakersfield, California, but spent the majority of his childhood and young adult life in Santa Barbara, California. He served an LDS mission in Wisconsin, then pursued his education in Biologic Sciences at SBCC, UCSB, and BYU. He completed his schooling at the University of Utah, College of Pharmacy.
Gregg currently practices in Logan, Utah, as Director of Pharmacy for the Bear Lake/Cache Valley Community Health Centers, and as Clinic Pharmacist for the Cache Valley Community Health Center. In addition to his pharmacy practice, he is an accomplished author and lecturer. He has been published in Skin Diver Magazine, the Oceanographic Letter, Destiny Magazine, and the New Era Magazine. His fictional novels include The Survivors, Do No Harm, Altered State, Blink Of An Eye, Bloodborne, and Deadly Undertakings, and Twisted Fate, five of which were Whitney Award finalists, and one of which was a Best of State nominee. To find out more about Gregg's novels, visit www.greggluke.com
_________________________________________________________________________________
Dr. Daniels is board-certified by the American Board of Obstetrics and Gynecology. He has more than 20 years of experience and has practiced in five different states.
Dr. Daniels received a degree in Business Management from the University of Utah. He then served in the U.S. Air Force as a navigator for seven years. He returned to school and earned his medical degree at the University of Texas Medical School. Dr. Daniels completed his OB/GYN residency training at Franklin Square Hospital in Baltimore, Maryland.
Dr. Daniels served as a physician in the U.S. Air Force in Mountain Home, Idaho where he became the chief of OB/GYN services. He then had a private practice but continued to serve for five more years in the Air National Guard until 2001 when he retired as a Lt. Colonel. He practiced in rural Kansas for eight years before returning to Salt Lake City in 2009.
Dr. Daniels currently practices at the Rocky Mountain Women's Health Center in Salt Lake City. He
has delivered over 4,000 babies and enjoys both normal and high risk obstetrics. He also does minimally invasive gynecological surgery using laparoscopy and the Da Vinci robotic system.
Dr. Daniels is also interested in the treatment for female pelvic prolapse and stress urinary incontinence. Over the past twenty years there have been significant advances in the surgical treatment for these problems. There has also been some controversy surrounding one of the newer procedures. Dr. Daniels likes to offer the best treatment options available to his patients.
_________________________________________________________________________________
Diane Kendall NP - How Many Ways Can We Trip up Grandma (Elderly Abuse)